Ensuring the safety of students travelling on buses is at the heart of the Transport Service's work. The management of supervision on the buses is, as such, one of the key points of our team's daily work. To do this we work with two types of supervisors: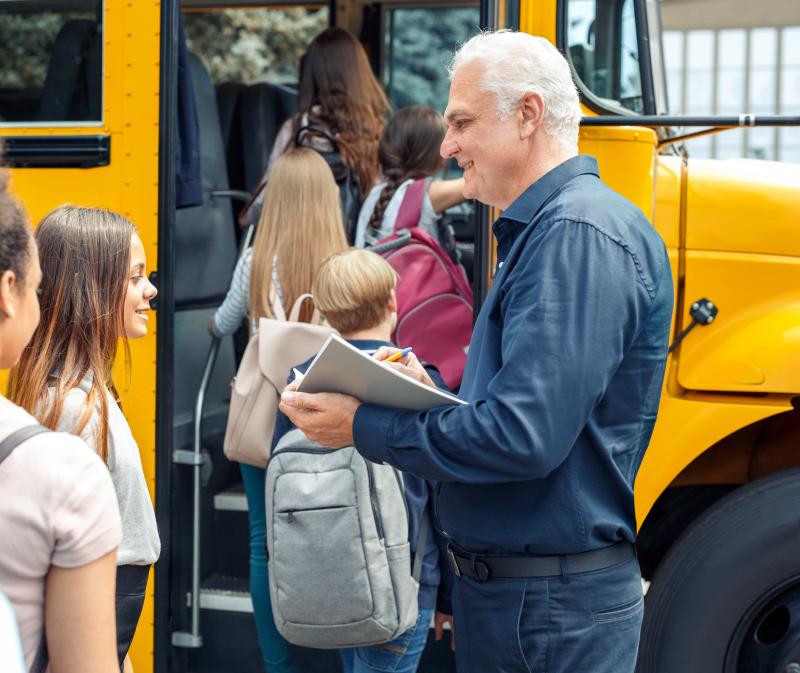 Adult supervisors
Adult supervisors are people from outside the school who are hired directly by the Transport Service to supervise pupils on the bus. Some supervisors are hired to work on a fixed basis on a specific bus route and others are hired to provide replacements in case of illness, absence,... of a permanent supervisor.
For the Berkendael site, as the school only caters for nursery and primary pupils, the Transport Service only hires adult supervisors to supervise the pupils.
For information, for the period October 2021-April 2022, the attendance rate of adult supervisors for our Berkendael routes was 97.5% for the morning rounds and 99.1% for the afternoon rounds.
Adult supervisors are provided, as far as possible, in Uccle when student supervisors are absent.
Student supervisors
Pupils of the EEB1 Uccle school can apply to become a supervisor on their bus from the age of 15.
The Transport Service is active in a school, where young people are there to learn and develop their skills. By offering them the possibility of a "student job", the service hopes to contribute to the development of essential skills for the students' future working life such as: developing autonomy, respecting a contract and professional commitments, taking and assuming responsibility, caring for others (especially the youngest), ...
Nevertheless, the Transport Service does not offer these jobs simply to "please" young people and/or parents. The role of supervisor is absolutely essential to ensure the safety of all pupils on the buses. This job should not be taken lightly and that is why the Transport Service regularly monitors the work of the supervisors, whether they are adults or pupils.
Are you interested in working as a supervisor?
Are you a pupil of the EEB1 and 15 years old? Please contact Mr Sehbi from the Transport Service, by e-mail: transport.surveillants@apeee-bxl1-services.be, by phone: 02/ 374.70.46 or by coming to the Transport Office.
Are you external to the school? Discover our job offer below: